Meet the best projects in the province!
The Super Expo-sciences Hydro-Québec, the Quebec final, brings together the best projects in Quebec, from the 12 regional finals.
For five days, the exhibitors gather to participate in a whirlwind of scientific and social activities in a very energizing festive atmosphere! The general public is also invited to visit exhibitors and learn more about their projects.
2018-2019 edition

The Super Expo-sciences Hydro-Québec, 2019 Quebec Final, will take place in Montérégie at Collège Charles-Lemoyne in Longueuil from April 11 to 14, 2019!
---
Breakdown of projects by region
Here is the number of projects that each region of Quebec will send to the Quebec final. Annually, 125 projects are presented. In addition, the host region of the Quebec final benefits from two additional projects.
Est-du-Québec: 9
Saguenay – Lac-Saint-Jean: 11
Québec et Chaudière-Appalaches: 13
Mauricie, Centre-du-Québec: 9
Estrie: 9
Montréal: 15
Montérégie: 14  (+2, host region of the 2019 Quebec final)
Rive-Nord (Laval, Lanaudière et Laurentides): 11
Montreal Regional Science and Technology Fair: 15
Outaouais: 9
Abitibi-Témiscamingue: 5
Côte-Nord: 5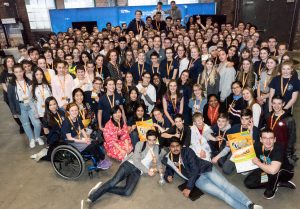 ---
Useful informations

---