Youth Ambassadors
Through a collaboration with the
 Alcoa Foundation,

The Réseau Technoscience
is proud to offer the Youth Ambassadors program.
---
Who are the Youth Ambassadors ?
They are former Science Fair participants who can offer free support to teachers and their students in the realisation of their Science Fair project.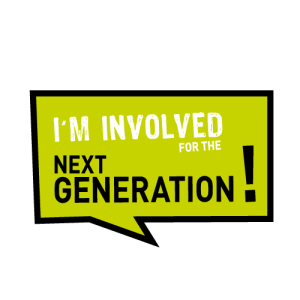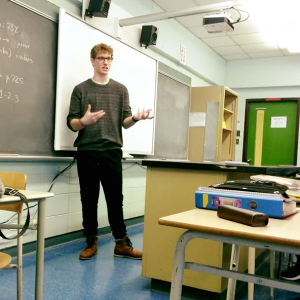 Picture: Boite à science
In the photo: Jonathan Lévesque, Youth Ambassador was with students from Les Etchemins High School – ESLE to talk about his experience and congratulate them to dare science!
What is the mission of the Youth Ambassadors ?
SUPPORT and PROMOTE the realisation of one or more Science Fair projects in the classroom. The ambassadors' mission is to motivate young people to dare science and support the work of teachers by sharing their experience and expertise.
What are the benefits of receiving a Youth Ambassador?
Youth Ambassadors are former science fair exhibitors, so they can share their experiences at the Science Fair, answer students' questions, explain the judging process, guide students through their projects and more!
Who better than a former participant who loved his experience at the Science Fair to introduce the project to your students?
What kind of support can ambassadors offer?
Support for teachers and students are offer through three different approaches:
Classroom Presentation of Science Fair to Students
Classroom support for one week or more
Support to the teacher for the realization of the local final and / or help for the preparation of projects going to the regional finals
How to benefit from the support of Youth Ambassadors for your class?
You would like to benefit from the help of a youth ambassador?
Contact your regional organization, it can match you with a youth ambassador in your area!
---
HOW TO BECOME A YOUTH AMBASSADOR?
You participated in the Science Fair and would you like to become a Youth Ambassador? Thanks to our collaboration with the Alcoa Foundation, you will be paid for your work!
Contact the regional organization closest to you to submit your application.